We each owe a death – there are no exceptions – but, oh God, sometimes the Green Mile seems so long.
The lives of guards on Death Row are affected by one of their charges: a black man accused of child murder and rape, yet who has a mysterious gift.
The Green Mile is a beautiful movie . It is actually one of it's kind , I don't think I've ever seen anything like that in my entire life. It is just different and yet it is brilliant . Again Tom Hanks has done his part with absolute perfection . It is one of those movies that will make you sad in the end and yet some part of you would  still be feeling good.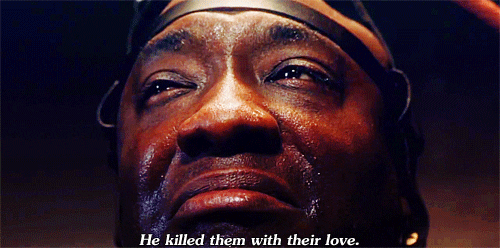 He kill them wi' their love. Wi' their love fo' each other. That's how it is, every day, all over the world.
This movie has been produced in such and amazing way , it is kind of soothing . The characters have been played perfectly . It's like they were not  actors , they were real people. In the end whatever happens with John Coffey will make you sad .
SHOULD YOU WATCH IT : YESS !!!
MY RATING : 92/100
TBH : John Coffey, Like the drink, only not spelled the same. 🙂