If I'm doing a fake movie, it's gonna be a fake hit.
Seems weird , right? But it ain't weird .
This movie is based on a real life event where the CIA actually produced a fake movie, And they were successful 😀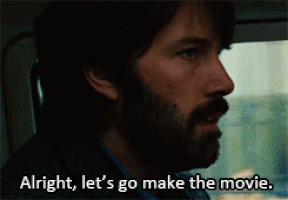 Right , coming on to the movie then ,  In 1979, the American embassy in Iran was invaded by Iranian revolutionaries and several Americans were taken hostage. However, six managed to escape to the official residence of the Canadian Ambassador and the CIA was ordered to get them out of the country. With few options, exfiltration expert Tony Mendez devised a daring plan: create a phony Canadian film project looking to shoot in Iran and smuggle the Americans out as its production crew. With the help of some trusted Hollywood contacts, Mendez created the ruse and proceeded to Iran as its associate producer. However, time was running out with the Iranian security forces closing in on the truth while both his charges and the White House had grave doubts about the operation themselves.
This is a great movie. The story, acting, pacing, editing, etc. was just fantastic. Affleck's directing was solid, and the suspense will keep you entertained right through to the last seconds. I loved it. You will be on the edge of your seats throughout the movie . Till the very last second , you wouldn't know if they will get out of Iran or not . Now, a lot of people say that it is not exactly what happened and that the writers took some liberty while writing the story , but I DON'T CARE, true or not , the movie is nice .
Not Oscar nice tho , but hey , it's Oscar . You never know what's gonna happen 😛 .
SHOULD YOU WATCH IT : UH MAYBE  !!!
MY RATING : 70/100
TBH : ARGO , **** yourself.