"In the United States, the Mafia makes witnesses disappear so they can't testify in court. In Colombia, Pablo Escobar made the whole court disappear."— Steve Murphy
Most us  know who Pablo Escobar was. In case you don't , here is what wiki has to say.
Pablo Emilio Escobar Gaviria was a Colombian drug lord and narco-terrorist. His cartel supplied an estimated 80% of the cocaine smuggled into the United States at the height of his career, turning over US $21.9 billion a year in personal income
Now coming on to Narcos , the story , well it is one of the best stories I have ever seen . And the best part it that it is base on a real story. And the even better part is that the show exactly replicates what happened. If you compare the show and the real pictures of what Pablo Escobar did , EXACTLY THE SAME. BTW when I first compared the pictures , I could not believe my eyes that something can actually be copied exactly . I have watched other movies and TV shows that are based on real stories , be Narcos is exactly the same.
Narcos tells the true-life story of the growth and spread of cocaine drug cartels across the globe and attendant efforts of law enforcement to meet them head on in brutal, bloody conflict. It centers around the notorious Colombian cocaine kingpin Pablo Escobar (Wagner Moura) and Steve Murphy (Holbrook), a DEA agent sent to Colombia on a U.S. mission to capture and ultimately kill him.
Hotel Rwanda which happens to be one of the best movies I have ever watched is also based on real life story but still if you compare it with the real events that happened , there are some things that are different , but Narcos . I don't need to say anything more about it being exact . 😛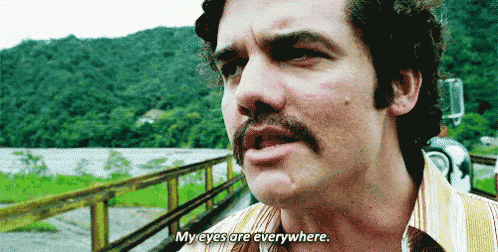 The show has been made beautifully , the scenes are amazing , the story is gripping , it is interesting , it is perfectly paced , it is spectacular . YES SPECTACULAR!
"Despite his threats, many brave men defied him. And, true to form, when the pen failed … Pablo was always ready with the sword." — Steve Murphy
Narcos is one of the best things I have ever watched .
SHOULD YOU WATCH IT : YESSSS !!!
MY RATING : 92/100
TBH : PERFECT  .